Bernadette
Duncan Campbell
Cinémathèque Robert-Lynen, Paris
Tuesday, October 13th, 2015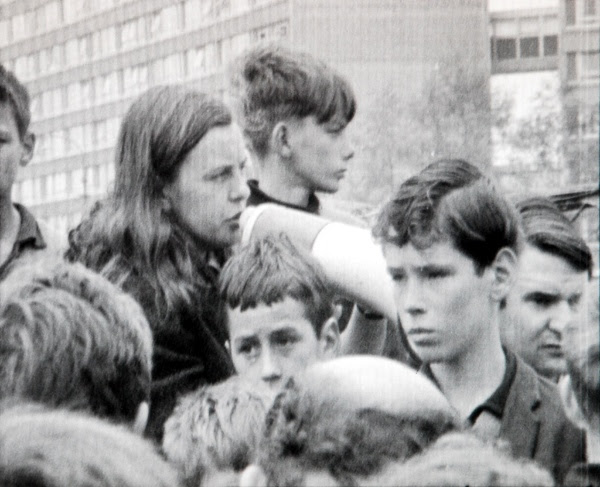 Duncan Campbell, Bernadette, 2008. Digital film, 38'10. Courtesy of the artist & LUX, London
In 1969, Bernadette Devlin, 21 years old, a civil rights activist, founder of the student movement People's Democracy, Irish republican MP, enter in the British Parliament as Ulster representative of Northern Ireland. Four months later, in August, she is in the middle of the Bogside riots in Derry. For the first time since the partition of Ireland in 1921, the British Army is back to separate the Bogsiders (organised under the Derry Citizens' Defence Association) from the RUC (police force in Northern Ireland until 2001) and the B-Specials (an armed corps, partially military called out in times of war insurgency).
The Battle of Bogside, and particularly the civil rights march in Derry on 5 October 1968, is at the beginning of the Northern Ireland conflict. Bernadette Devlin was among the most virulent protesters. Duncan Campbell film is a portrait built from found footage archives (from Belfast City Archives), historical and TV material. The very political and revolutionary commitment of Bernadette Devlin enter here into the fiction world as from political leader, she becomes, through the prism of TV, a media icon. She was a televisual obsession.
Born in 1972 in Dublin, Duncan Campbell lives and works in Glasgow. In 2014, he was the recipient of the Turner Prize for his work It for Others. In 2013 he represented Scotland at the Venice Biennale. In 2012, he took part in Manifesta 9, Belgium, and in 2010 in Tracing the Invisible, Gwangju Biennale. Recent solo exhibitions include: Arbeit, Kunsthall, Oslo, 2015; Bernadette, GMK Gallery, Zagreb, 2014; Duncan Campbell, Carnegie Museum of Art, Pittsburgh, 2012.