Blessed Blessed Oblivion & A Sketch of Manners
Jumana Manna
Cinémathèque Robert-Lynen, Paris
Tuesday, September 15th, 2015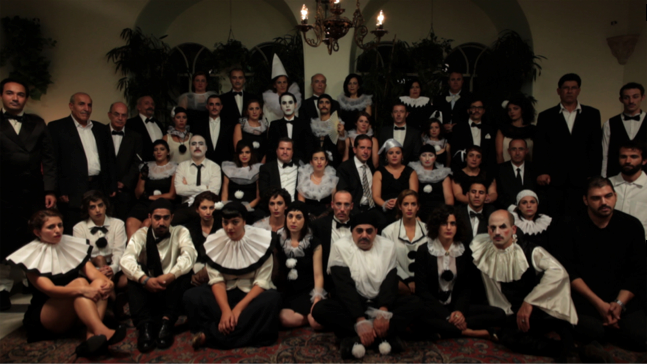 Jumana Manna, A Sketch of Manners, 2013. HD video, 12'. Courtesy of the artist & CRG Gallery, New York
Jumana Manna's videos and sculptures are precipitates of history and geography, to-be-appropriated narratives reflecting political, economic, religious, and social upheavals that disrupt the daily course of our world—upheavals which often remain difficult to understand because of their complexity and controversial essentialisation. In this sense, her works could easily be related—besides their artistic breath and her desire to stage the "body politics"—with contemporary forensic science, particularly as it was recently exhibited in Images à charge. La Construction de la preuve par l'image (Le Bal, Summer 2015).
Both related to a specific geopolitical context—Palestine, from where the artist originates—the videos of the program span a 70-year period; they intertwine personal, insignificant stories and History as it moves inexorably. A tribute to Kenneth Anger's Scorpio Rising (1963), Blessed Blessed Oblivion takes place in today East Jerusalem and draws a profane, daily, and violent portrait of a group of young Arab men. Inspired by a photograph of a costume party in Jaffa in 1924, A Sketch of the Manner is the fictional reenactement of a ball that would have been organized in 1942 by the wealthy industrialist Alfred Roch, representative of Palestine at the 1939 London Conference. 1942: Palestine left the Ottoman Empire, came under British protectorate and will soon see the birth of Israel. Played by the artist's family and friends, introduced by Charles Baudelaire's The Previous Life poem (1857), the film unfolds in an hesitant space-time, between amnesia, nostalgia, and anticipation.
Born in 1987 in the United States, Palestinian artist Jumana Manna lives and works in Berlin. Selected exhibitions include: Rendez-vous, Biennale de Lyon, IAC, Villeurbanne, and Aftercinema, Beirut Art Center, Beirut, 2015; Menace of Origins, Sculpture Center, New York, 2014; The Goodness Regime, Kunsthall, Oslo, and the 11th Sharjah Biennale, 2013. Chisenhale Gallery (London) presents her work from September 18 to December 13, 2015. She is represented by CRG Gallery, New York.