Arvo Leo
Tuesday, December 12, 2017
Galerie Florence Loewy
In presence of the artist

Thrusday, December 14, 2017
Le Crédac, Centre d'art contemporain
Followed by a Q&A with the artist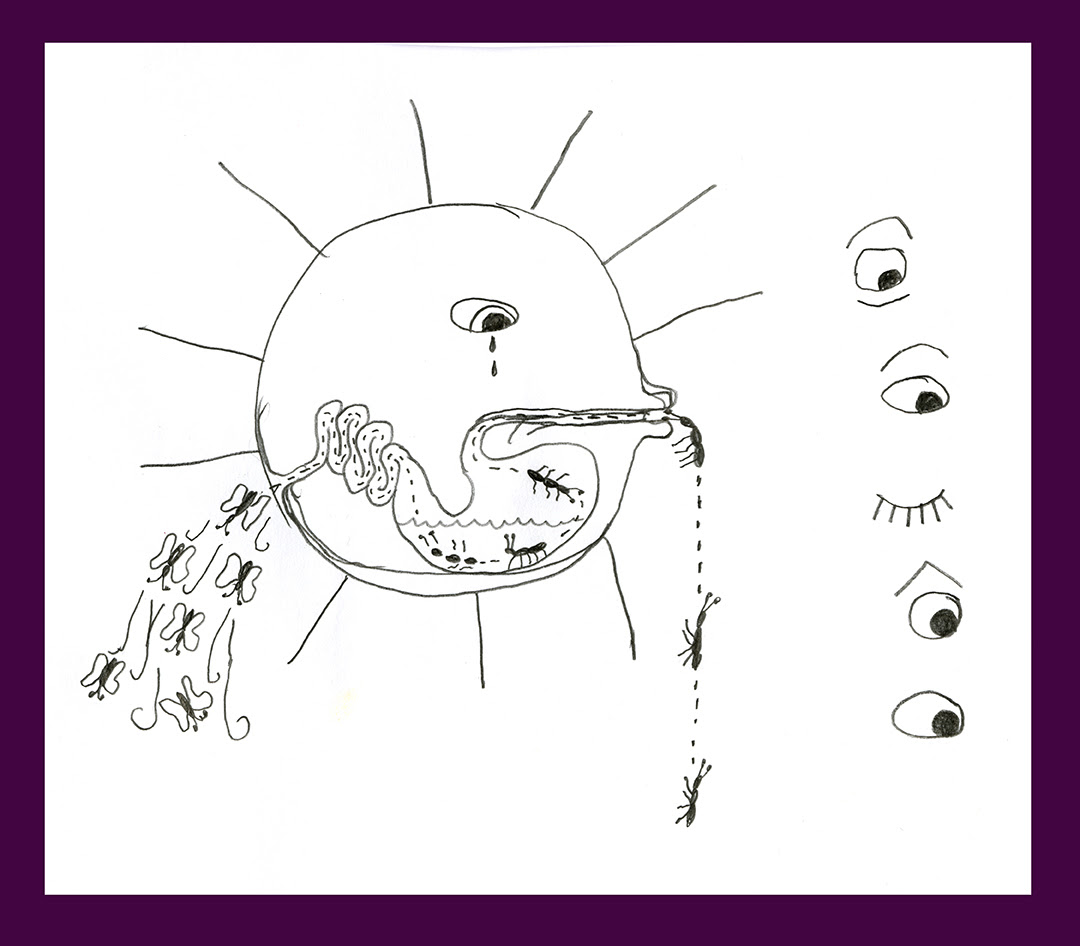 Arvo Leo, Story of the Ants, 2017. Courtesy of the artist
Robert Filliou once said that "art is what makes life more interesting than art." With this in mind, artist and filmmaker Arvo Leo questions aspects of ritual and the everyday in art systems and domestic life, and playfully reconfigures them. With an attempt to speak "near" rather than "about" his subject matter, he often creates open-ended films that translate local landscapes and histories, sculptural forms, and animate and inanimate objects into moving images. His projects present a vitality that arises from engaging with communities and dialogues outside of the art context, whether in the research or exhibition stage. Highly site-specific works in public and in private spaces are often ephemeral and collaborative, absurd and humorous.
For this two screening events Caro Sposo shows The Orchids/ had the look of flowers that are looked at (2017) and Story of the Ants at the Galerie Florence Loewy on December 12; and Fish Plane, Heart Clock (2014) at the Crédac on December 14.
His most recent film centers around the orchid, and in doing so evidently cuts through complex layers of colonialism, economic activity, and cultural beliefs that span across many centuries and many continents. Arvo Leo tracks the orchid from its acquisition as an exotic trophy to its highly charged sexual symbolism to its present day existence as the most popular ornamental organism to grace the windowsills and hotel lobbies of our damaged planet. Over the past year Leo has devoted much of his personal life to raising orchids, conducting botanical research, and is an active member of the Dutch Orchid Society. The Orchids/ had the look of flowers that are looked at (2017) unfolds in the artist own studio and offers a rich interplay between the elements of light, agency, and representation and how they resonate with both plants and image-making. We have arrived at a moment where plants are now making their own self-portraits and contemplating their own domestication.
Such themes of nature and representation can also be traced to Story of the Ants (2017), a video in which Leo talks about a silkscreen poster he produced which illustrates his own speculative mythology of how an 'accidental sculpture' came to be. The viewer meditates on the stories that appear on the poster; stories that present a singular event from several non-human points of view. We also learn of the poster's materialization and later, its distribution to random basements and cellars in the city of Mechelen, Belgium. The poster, which was an offering to the subterranean world, has now moved cities. Two of these posters are currently on display at the Galerie Florence Loewy in Paris; one in their gallery, and one down in their basement.
Born in Aotearoa (Canada) in 1981, Arvo Leo is currently in residency at the Rijksakademie, Amsterdam. His film Fish Plane, Heart Clock (2014) is on view at Le Crédac, Ivry-sur-Seine, until December 17, 2017.