Strophe, A Turning
Ellie Ga
Cinémathèque Robert-Lynen, Paris
Tuesday, January 16th, 2018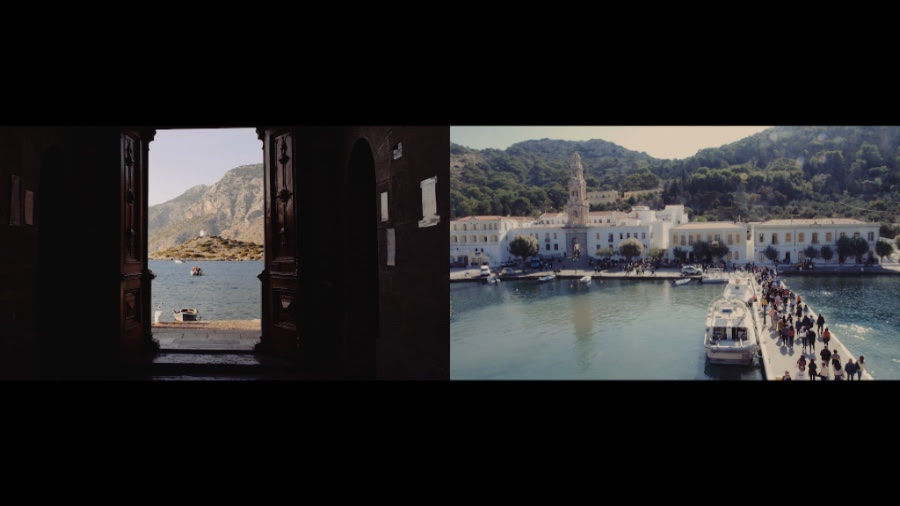 Ellie Ga, Strophe, A Turning, 2017. Courtesy of the artist and Bureau, New York
A new film by Ellie Ga realized after three years of research, Strophe, A Turning takes us on the traces of messages sent to the sea. The artist took as a starting point this subject arousing her interest and then derived from her meetings and researches of this eminently poetic subject to confront the dramatically contemporary subject of migration.
The film opens with a quote from the Russian poet Osip Mandelstam who compares the writing of poems to the act of launching messages in bottles into the sea, thus questioning this crazy act, just like the identity of the one who is going to receive the message. From the island of Symi, which receives bottles from the sea, thanks to the drift of the marine currents, to that of Lesvos where refugees and asylum seekers arrive on its coasts, to the city of Izmir having known in the 1920s a massive migration following "The Great Catastrophe" (1922), the artist observes and questions this "desperate and irrational" act to send a message to the sea or even more dramatically to embark with one's family on a dangerous journey towards an uncertain outcome.
The film (in its mono screen version) unfolds on a black background; the images juxtaposing to each other like the stanzas of a poem in the process of being written: mixing personal accounts, chance encounters, and the unraveling of histories. The camera dwells on these apparently derisory objects, bottles or stranded dolls, which are nevertheless like the "pieces of the soul" of men and women who have faced adversity.
Born in 1976 in New York, Ellie Ga lives and works in Stockholm. Recent solo exhibitions include: "The Fortunetellers," Frac Franche-Comté, Besançon; "Square, Octagon, Circle," Le Grand Café-Centre d'Art Contemporain, Saint-Nazaire; Grand Arts, Kansas City, Missouri; "Pharos," M-Museum, Leuven; "It Was Restored Again," Albright-Knox Art Gallery, Buffalo. Group exhibitions include: Le Fresnoy, Tourcoing; La Criée Centre for Contemporary Arts, Rennes; The Guggenheim Museum, New York; the Louisiana Museum of Modern Art, Denmark. She is represented by Bureau, New York.