Cycladic Figures
William Leavitt
Cinémathèque Robert-Lynen, Paris
Tuesday, April 10th, 2018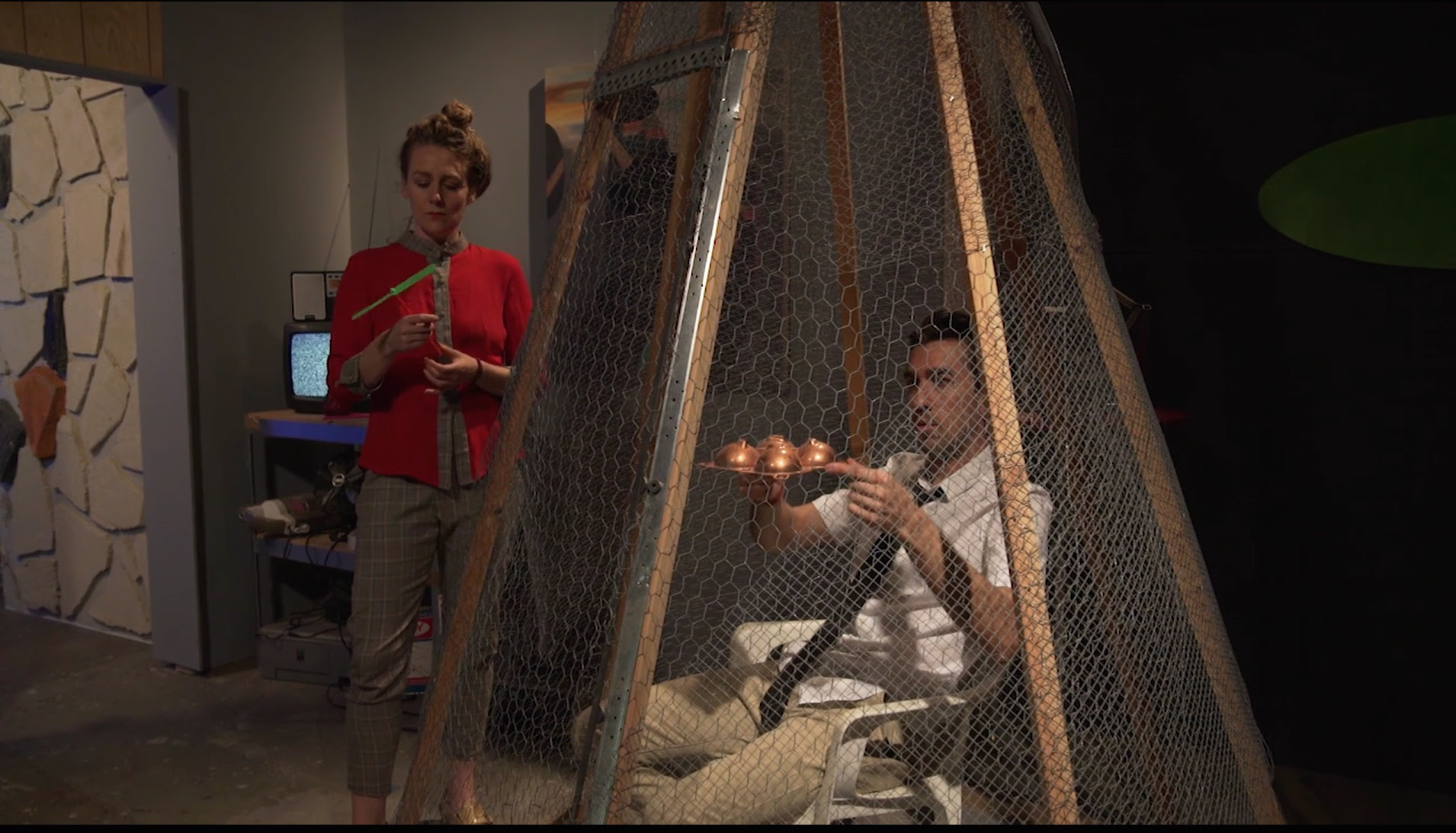 William Leavitt, Cycladic Figures, 2017. Courtesy of the artist and the galerie frank elbaz, Paris
A key artist of the Californian scene, William Leavitt is associated with the emergence of Conceptual Art. He is an emblematic figure of Narrative Art. He defines himself as "a specialist in the narration of something" who tries to "frame some story through an object or a painting or a situation that would lend to further narrative." To build what he calls his "theater of the ordinary," he always relies on the collective imagination developed and fossilized by Hollywood and knowingly twists its neck. Using his own installations and paintings to create archetypal decorations witnessing for the film industry, Leavitt proposes films that are small theaters of the absurd; which are like collages in motion, of time and space, where the mundane, the science, the supernatural, love, philosophy, and science-fiction mingle.
It is with the image of an obsolete TV, with the pixelated image of a crescent moon, that Leavitt's last film opens. Perhaps a nod to Nam June Paik and his installation The Moon Is The Oldest Television (1965), it is above all the symbol of a popular imagery and of the intrusion of the industrial cinematographic image in all our houses; it emphasizes the recurrent use by the artist of multilayered spaces in one space, of the introduction of other dimensions and space-times. This opens us the doors of the artist's intentions. His film takes us into a succession of scenes that form a scenario with fairly vague outlines, cryptic coherence, where, in a near future where electricity is essential and technology, waves, and science omnipresent, couples dialogue and wonder. The typically Californian houses and exteriors are so stereotyped that they are like mental spaces illustrating the vacuity between the protagonists. Their exchanges are "so soap," without pathos, disillusioned, but worried, and one feels in each of them this incapacity to enjoy life, but their wish to flee into fiction, their dreams, their scientific delusions, their cages of Faraday. The dialogues are so serious or absurd that they become funny; we get this impression they are excerpts from other films, caricatures of dialogues borrowed from different genres: sci-fi and action films, romantic comedies, etc. Given the perplexity and the distress of his characters, Leavitt uses superstition and magic and we soon realize that the encrypted channels used by the waves of all these new technologies are the same as those borrowed by ghosts, voices, archaic, mythological, and cultural figures that help mortals. What stands out, beyond purely formal and cinematographic references, beyond sitcom's caricature, is this philosophical-scientific notion of a "Noosphere": a layer of collective consciousness of the whole humanity, a million years of vibrating thoughts that resonate with the vibratory capacities of contemporary technologies, and which generates both distance and connection, where everything becomes a question of space, of species of spaces.
Born in 1941 in Washington D.C., William Leavitt lives and works in Los Angeles.
He currently has a solo exhibition entited Western Movie at the galerie frank elbaz (until May 19).
Among his recent solo exhibitions: MAMCO, Geneva, 2017–2018; Honor Fraser Gallery, Los Angeles, 2017; Greene Naftali Gallery, New York, 2016; Museum of Contemporary Art, Los Angeles, 2011; and LAXART, Los Angeles, 2009.
He is represented by the galleries frank elbaz, Paris; Greene Naftali, New York; and Honor Fraser, Los Angeles.