Carte blanche to Julien Creuzet: With Bronwyn Katz & Tabita Rezaire
Beaux-Arts de Paris
Thursday, March 14th, 2019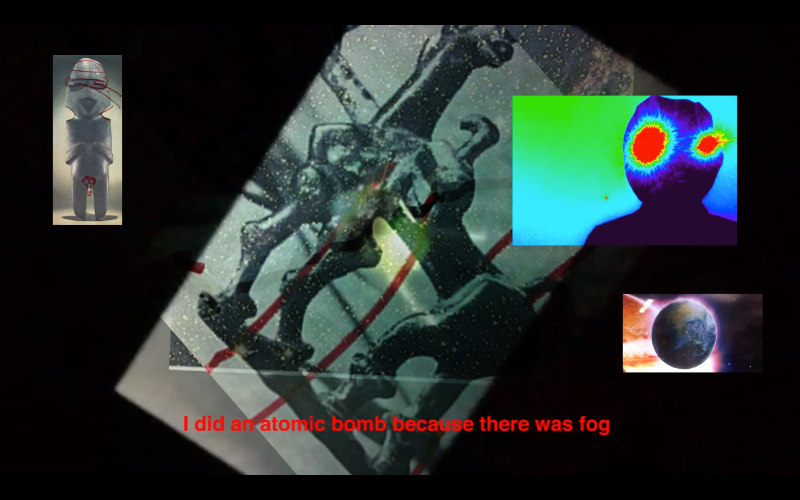 Julien Creuzet, Knights Tell A Tale of A Dead Pharaoh, 2017. Vidéo, 11'46. Courtesy of the artist
Julien Creuzet explores different cultural heritages, associating most often poetry, song, photography, and installation. He combines these mediums as mutually enriching languages; their weaving brings into play spaces, coincidences, precise and loose games that give free rein to the imagination. His work induces that neither the identity of the individual nor the collective identity are fixed. The exchange is with the other, without denying oneself. The artist organizes bridges between the imaginary of elsewhere, the social realities of the here and the forgotten minority stories.
In correspondence with a selection of Creuzet's recent video works, Bronwyn Katz's Grond Herinnering addresses the issue of memories and rituals, while Tabita Rezaire's films invite the spirits around a creative energy through a cosmogony linking ancient knowledge, divination methods, computer encoding data, powers of sound and vibrations, and futuristic thinking about minorities.
Screening:

Bronwyn Katz
Grond Herinnering, 2015 ; video, 3'48
Courtesy of the artist and blank projects, Cape Town

Julien Creuzet
Amalla-Fri-Mason, 2017 ; video-poem, 6'04
Allha Kama, 2017 ; video-poem, 3'03
Unamed History, Spike, Hazy Effects, of the Grimoire, 2017 ; video, 9'56
Knights Tell A Tale of A Dead Pharaoh, 2017 ; video, 11'46 (production Orange Rouge)
Courtesy of the artist

Tabita Rezaire
Hoeteps Blessings, 2015 ; HD color sound video, 12'30
Seneb, 2016 ; video, 7'31
Courtesy of the artist and Goodman Gallery, Cape Town
Julien Creuzet was born in 1986 at Blanc-Mesnil. He lives and works in Paris. A visual artist, videographer, performer, and poet, he has exhibited his work in many institutions such as Document Gallery, Chicago (2017), the 11th Biennial of Bamako (2017), the Biennial of Rennes (2018), the Fondation Ricard and Bétonsalon (2018). In 2019, he is preparing exhibitions for Kiosk (Ghent) and the Palais de Tokyo.
Bronwyn Katz was born in 1993 in Kimberley, South Africa. She lives and works in South Africa. Her work includes sculpture, installation, video, and performance. She exhibited at the 12th Dak'Art Biennale (2016) and Documenta 14 with her collective iQhiya. She was presented at the Palais de Tokyo in 2018 as a resident of Sam Art Projects.
Tabita Rezaire was born in 1989 in Paris. She lives and works in Cayenne, Guyana. She defines herself as a healing force, who uses art as a means for displaying the soul. She is interested in the science of networks, organic, electronic, and spiritual as healing technologies. Her work unfolds in places where technology and spirituality interconnect to nourish projects of emancipation and connection. Her video works offer alternative readings that decenter Western authority. She is a member of the NTU collective. Her work has been shown internationally, at the New Museum and at Performa 17, New York, at the Victoria & Albert Museum, London, and at the musée d'Art moderne de la Ville de Paris, Paris.