4 films, 30 minutes,
40 years
Ericka Beckman
Cinémathèque Robert-Lynen, Paris
Tuesday, January 17th, 2017

Pointing To, 1974, 6'45
Double Beds, 1975, 2'45
Switch Center, 2002, 12'
Tension Building, 2014, 8'15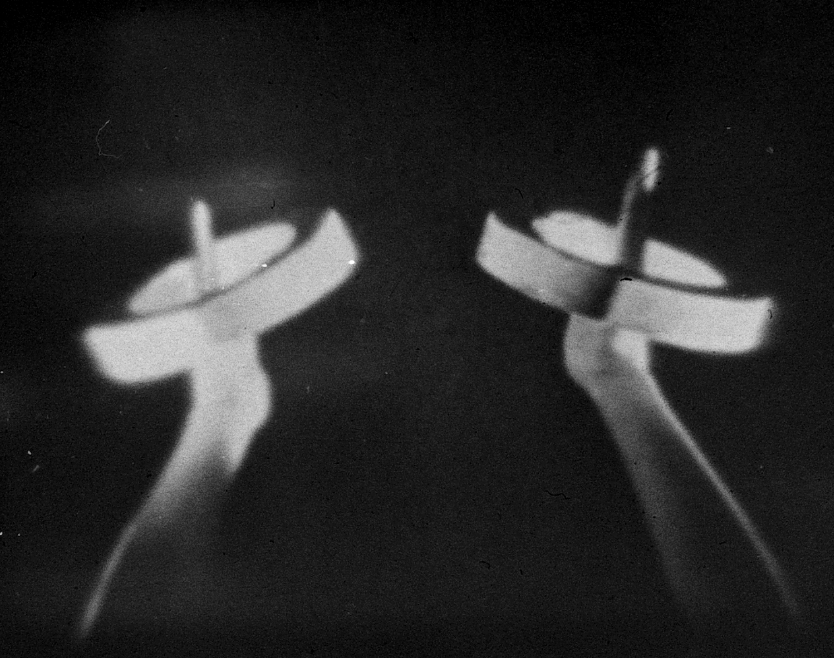 Ericka Beckman, Double Beds, 1975. Courtesy of the artist
This unique screening of Ericka Beckman's films offers a sampling of works through the 40-year career of the American artist, associated with the New York "Pictures Generation" and now celebrated for her singular way to stage the homo ludens confronted with group phenomena, technological advances, and deep emotions. From her black-and-white experimental films of 1974-1975 to her productions of the 2000s-2010s, in Ericka Beckman's narratives, the elasticity of the plots and causalities cohabits at best with an unbeatable formal rigor.
Variations around the couple and language in Pointing To.
Optical dreams and shadow plays in Double Beds.
Class struggle and production methods clashes in Switch Center.
Dance steps between (wo)men and architecture in Tension Building.
As Eric Zimmerman writes in a recent essay, "the work of Ericka Beckman could well be the handbook for the Ludic Century in which all of us already live."
Born in 1951, Ericka Beckman lives and works in New York. She is a filmmaker, photographer, installation artist, drawer, and writer. Since the late 1970s and her studies at CalArts, her practice shows a rare formal, narrative, and technical inventiveness around themes such as the game, the group, the relationship between space and movement, the psychological relationships between individuals and objects. Her recent exhibitions include: Cinderella, Cherry and Martin, Los Angeles, 2016; Frame UP, Walker Art Center, Minneapolis, 2015; Works 1978-2012, Kunsthalle Bern, 2013, then Le Magasin, Grenoble, 2014; The Pictures Generation. 1974-1984, The Metropolitan Museum, New York, 2009. Her films were recently screened at Tate Modern (London), Centre Pompidou (Paris), and Anthology Film Archive (New York). Secession (Vienna) will present a solo exhibition in the summer of 2017.